Specifications & Features
General Specifications

Overall Length: 8.50"

Weight: 4.0 oz (Knurled), 4.2 oz (Fluted)

Overall Thickness (w/ Clip): 0.65"

Overall Thickness (w/o Clip): 0.48"
Blade Specifications

Length: 3.75"

Material: Crucible CPM Magnacut

HRC: 61-63

Finish: Bead Blasted Grinds, Machine Satin Flats

Grind: Flat/Sabre

Cutting Edge: 3.25"

Width: 1.27"

Stock Thickness: 0.118"

Thickness BTE: ~0.02 (20 Thousandths)
Handle Specifications

Length: 4.75"

Material: 6AL-4V Titanium

Finish: Glass Blasted & Anodized or DLC Coated

Thickness (Each Handle): 0.157"

Grip Length (w/o Choil): ~4.0"

Max Width: 1.27"

Grip Width: 0.95"
Backspacer, Clip, & Pivot Collars Specifications

Material: 6AL-4V Titanium

Finish: Glass Blasted
Hardware Specifications

Material: Titanium

Finish: Glass Blasted

Pivot Drive: Torx T8

Body Drive: Torx T8

Lock Bar Insert Drive: T8
Features

Carry: Tip-Up, Right-Hand

Pivot: Caged Ceramic Ball Bearings

Detent: Ceramic Ball

Lock: Fusion-Lock (Button + Frame Lock w/ Steel Insert)

Opening Method: Hole, Front Flipper, Rear Flipper

Other Features: Hybrid-Deep Carry Pocket Clip, Custom Pivot & Pivot Collars, Keyed Pivot, Extensive Internal Milling, 3D Contoured Handles
Origin/Manufacturer Info

Country of Origin: China

OEM: Bestech Knives Company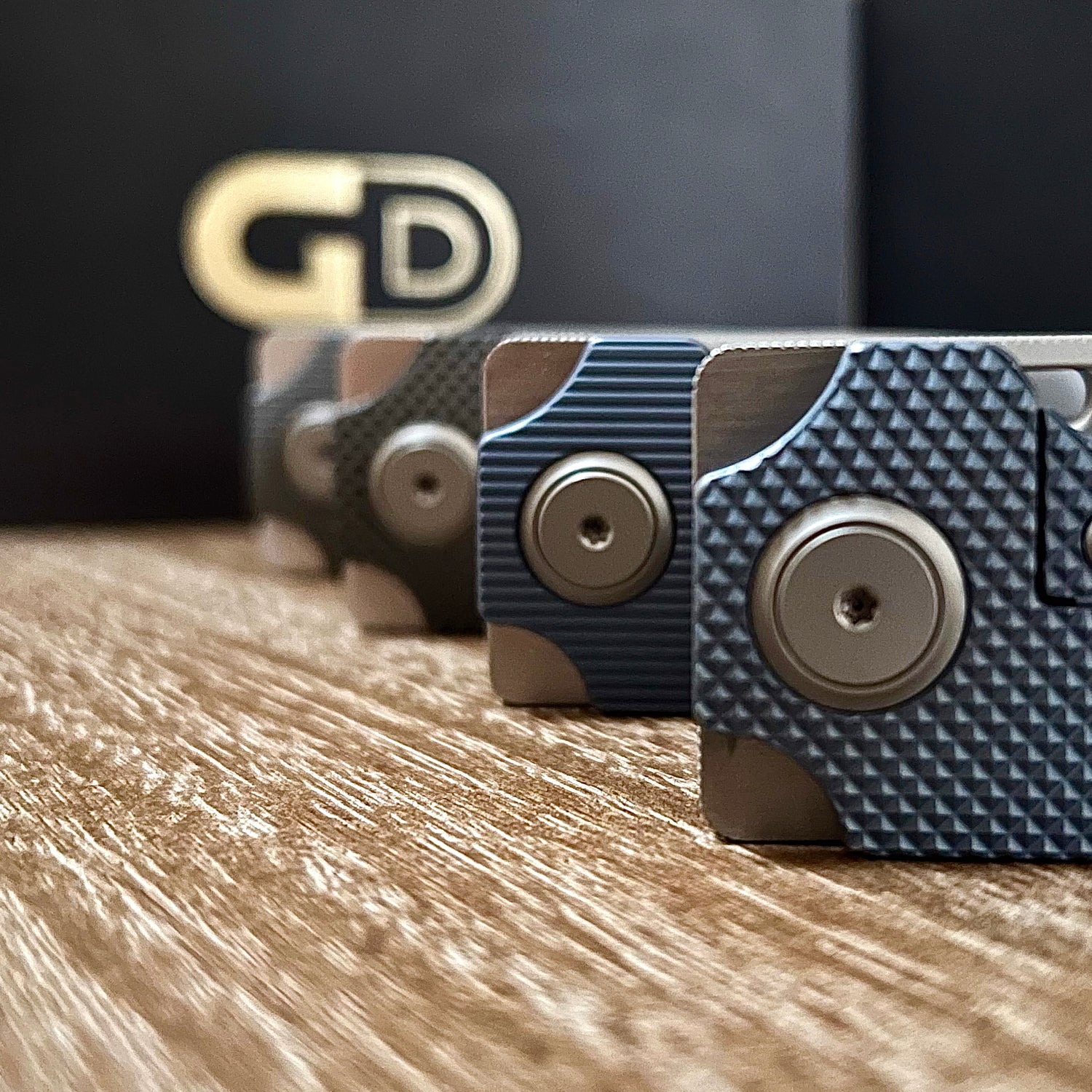 A New CALIBER of Knife
Keeping with the naming convention of the Standard, the next GD knife design is called the Caliber.
. . .
The Caliber is where simple and elegant lines meet brutally sharp looks and function.
. . .
We've already set the Standard... but we're raising the bar even higher with a knife of this Caliber.
It's always good to have choices...
Sky / Fluted

Sky / Knurled
The Sky colored Calibers are electro-anodized.
The Smoke colored Calibers are Grey DLC coated.
Smoke / Fluted

Smoke / Knurled
A little bit about the Caliber...
The Caliber was born from the idea of building a better feeling button-lock knife. Button locks are some of the most fun and fidgety knives, but in our opinion, they always come up a bit short in terms of the feel and quality. We think nothing feels as great as the heft of a frame lock, so we combined the two! The Caliber utilizes what we're calling the Fusion-Lock (a fusion of a frame lock and a button lock).
For the Caliber, we decided to take this fidget monster up a notch by making it a full-size folder. The Caliber carries over the same smooth and elegant design language of the Standard such as straight lines, clean aesthetics, and attention to detail. With its brutally striking looks, the Caliber is full-size knife that carries exceptionally well for its size.

Aside from the general function of the Caliber, we took the overall execution, feel, and details up a notch with this knife. The Caliber has heavily contoured handles and pivot collars which provide a heightened sense of detail and quality. All the hardware and components of the Caliber are titanium to give you the maximum customizability. Our hope is that this design, packaged with a brand-new lock, results in an excellent, large EDC.
Pre-order coming November 11!
Pre-Order!