Specifications & Features
General Specifications

Overall Length: 7.50"

Weight: 3.75 oz (Dimple), 3.82 oz (Ripple)

Overall Thickness (w/ Clip): 0.67"

Overall Thickness (w/o Clip): 0.48
Blade Specifications

Blade Length: 3.25"

Material: Böhler M390

Finish: Stonewashed Grinds, Machine Satin Flats

Grind: Flat/Sabre

Cutting Edge: 2.75"

Width: 1.12"

Stock Thickness: 0.126"

Thickness BTE: ~0.02 (20 Thousandths)
Handle Specifications

Handle Length: 4.25"

Frame Material: 6AL-4V Titanium

Frame Finish: Glass Blasted

Frame Thickness (Each Frame): 0.079"

Overlay Material: 6AL-4V Titanium

Overlay Finish: Sand Blasted

Overlay Thickness (Each Overlay): 0.079"

Grip Length (w/o Choil): ~3.5"

Max Width: 1.12"

Grip Width: 0.875"
Backspacer Specifications

Material: 6AL-4V Titanium

Finish: Glass Blasted
Hardware Specifications

Material: Stainless Steel

Finish: Machine-Finish Polished

Pivot Drive: Torx T8

Body Drive: Torx T8
Features

Carry: Tip-Up, Right-Hand

Pivot: Caged, Ceramic Ball Bearings

Detent: Ceramic Ball

Lock: Titanium Liner w/ Steel Insert

Opening Method: Hole, Front Flipper

Other Features: Interchangable Overlays, Hybrid-Deep Carry Pocket Clip, Custom-Machined Pivot, Keyed Pivot, Internal Milling
Origin/Manufacturer Info

Country of Origin: China

OEM: Bestech Knives Company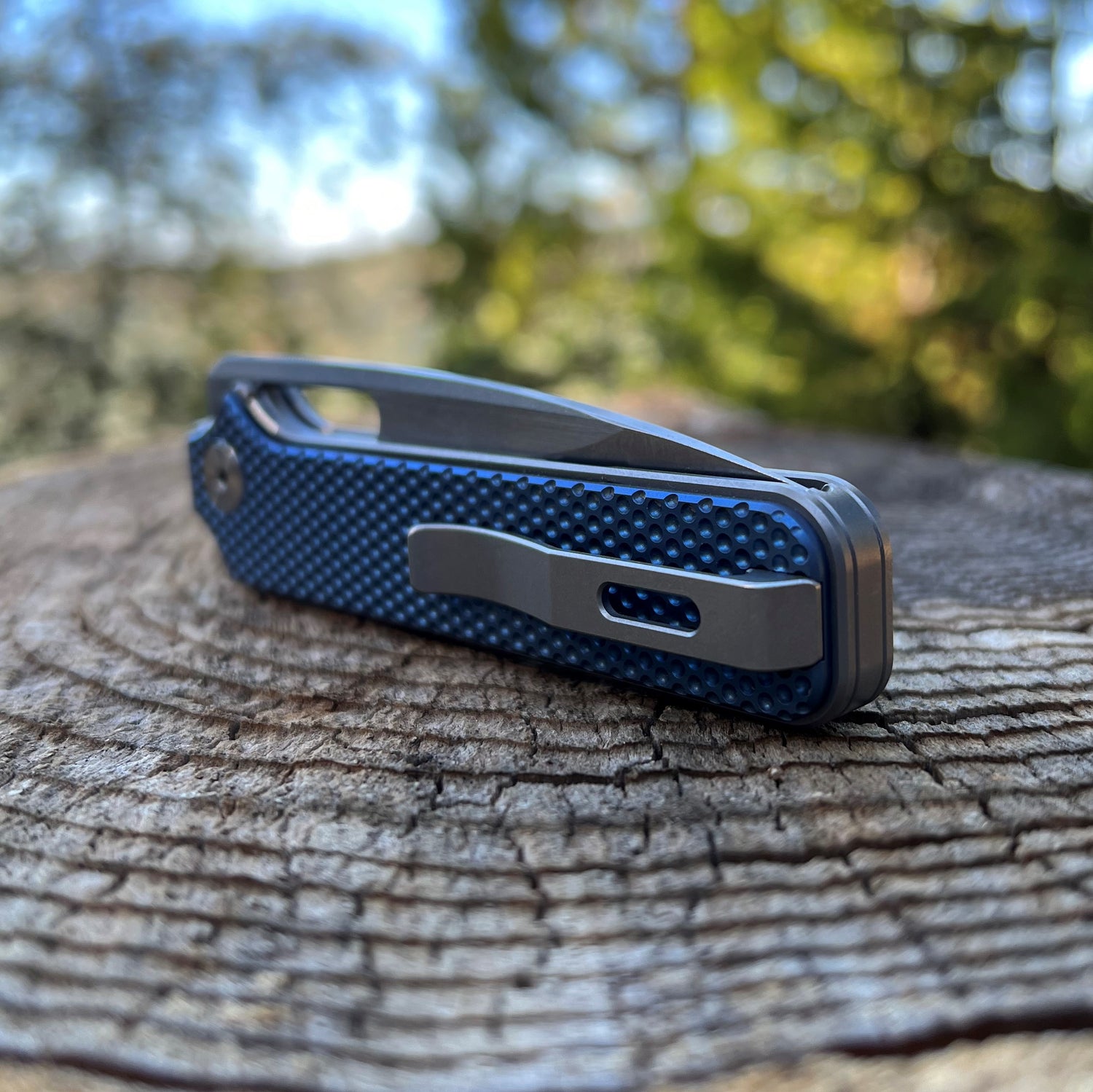 The STANDARD
The Standard is simple.
It aims to deliver a striking look, modularlity for its users, great utility, and quality materials.
. . .
Striking
Modular
Utilitarian
Quality
Choices... choices...
Dimple

Ripple
Sky

Smoke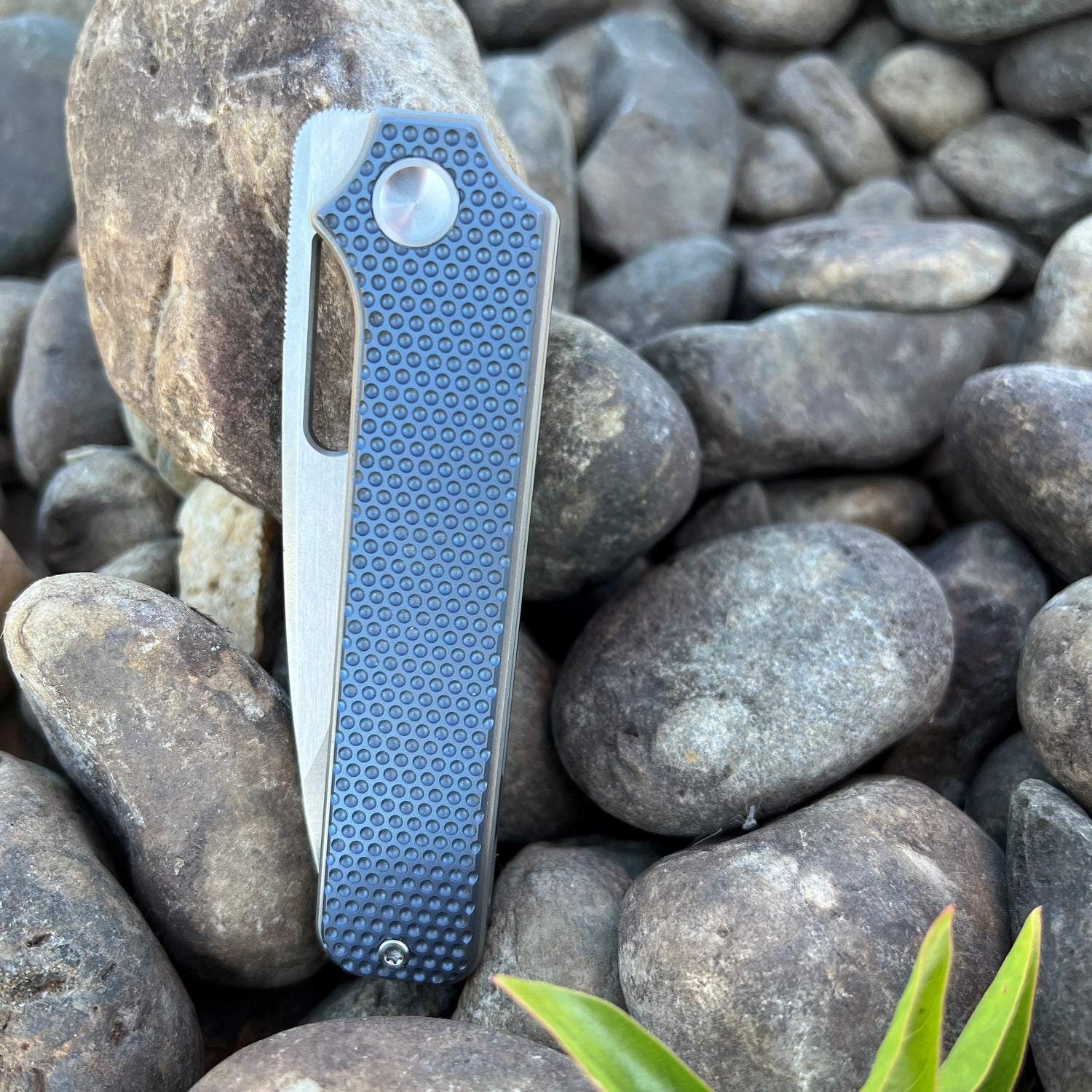 A little background...
As a knife collector/enthusiast for the last 5+ years now, I have probably had hundreds of knives come through my hands, and I have figured out exactly what I find to be excellent in a folding knife.
I have taken all of those elements and tried to incorporate them in a way that is seamless and original, without trying to be the best at everything. The Standard has a lot of those classic looks and features while still bringing its own unique style to the table.
My general design philosophy is to keep things simple while striking a great balance of form & function, and I strive for my designs to be executed to the highest quality possible while still being attainable. When it comes to the design and build of the Standard, the same holds true.
I truly hope you enjoy the Standard!
-Blaise